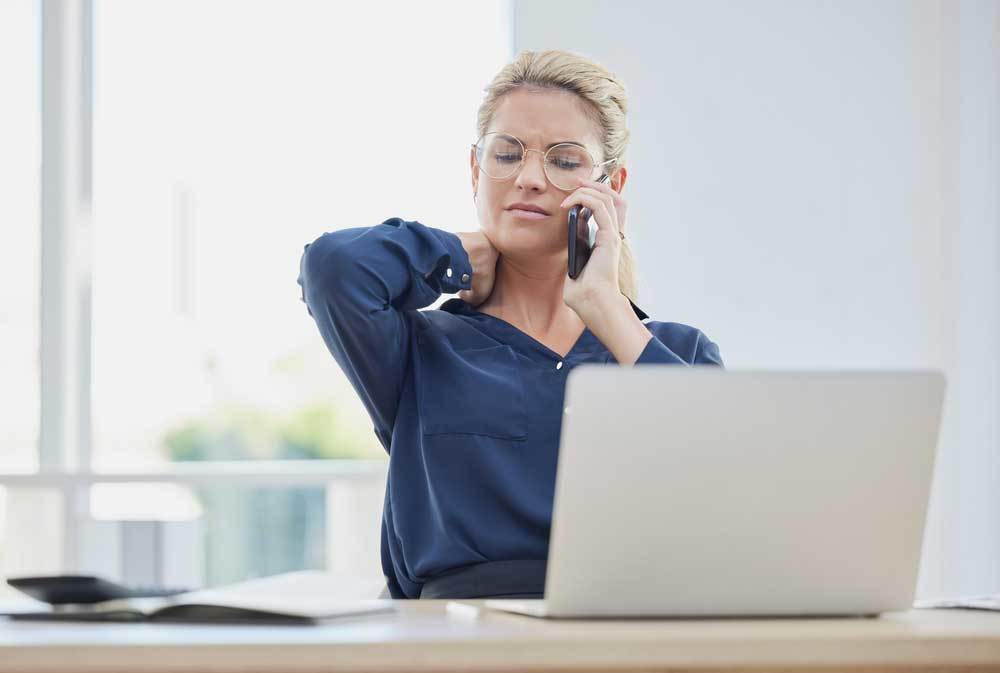 The neck may be small, but for most of us, it delivers a lot of support to our daily movements. Without its proper function, driving, dressing, lifting, even resting can be challenging or painful.

With a steady rise in technology use, remote workstations, and people leading more inactive lifestyles, neck discomfort has become more common.

Chiropractic services can help reduce neck pain and restore its full function so you can live comfortably and enjoy your activities free from restrictions. Chiropractors are experts in soft tissues and the spine and can determine the reason for your discomfort so the correct treatment plan can be applied.
This post will tell you:
Why you may have neck pain
Symptoms of neck injuries
Injuries that lead to neck pain
Chiropractic care to end your neck pain
And more

If you're suffering from neck discomfort, don't let it take any more control, read on to learn how to manage your neck pain and keep it from coming back.

Why Do I Have Neck Pain?
Our Golden Valley chiropractic clinic has seen a rise in neck pain patients, and the reasons vary. Because most people depend on their neck muscles for several actions, including holding up the head, the neck is almost consistently in use; this alone can put the neck's soft tissues and the cervical spine (the part of the spine in the neck) at risk.
Common symptoms of neck pain include:
Neck pain
Loss of range of motion in the neck
Inability to turn head from side to side or up and down
Pain when stretching the neck
Neck discomfort that worsens throughout the day
Inability to sleep comfortably
Failure to perform daily routine (work, exercise, social, etc.)

Common reasons patients experience neck pain include:
Poor posture, ergonomics, and workstation setup
Sedentary lifestyle
Using handheld devices for extended periods (scrolling, reading, or gaming on your phone or pad)
Prolonged sitting or standing
A traumatic event, such as a slip and fall or car accident
Sports-related pain
Overuse or repetitive use
Aging or regular wear and tear
Stress

Common conditions that cause neck discomforts include:
Disc herniation or other disc injuries
Degenerative disc disease
Arthritis
Sprains or strains
Nerve impingement
Chronic headaches

Learning what's causing your symptoms is crucial to a successful healing process. It's important to seek chiropractic care when your body is in pain; this will reduce the pain worsening or spreading and ensure your body gets safe, effective solutions.

Chiropractic Services to Heal Neck Injuries and End Neck Pain
Working with an experienced chiropractor, you'll get non-invasive treatments combined with preventative solutions and guidance to ensure you get healthy and stay healthy.
Chiropractic services to treat neck injuries include:
Chiropractic adjustments- a swift, controlled thrust to a targeted area that restores balance and alignment, restoring function to the spine and soft tissues
Acupuncture- thin needles placed in the skin over affected soft tissues to increase healing, circulation, and restoration
Yoga- proven strengthening and balancing exercises that increase flexibility and support a healthy body, proper movement patterns, and supporting breathing habits
Exercises and stretches- uniquely designed workout plans to help you strengthen the soft tissues, so they support you
Guidance on workstation setup, ergonomics, and posture
And others

Your neck health plays a vital role in your daily routine, and getting it strong should not go unchecked. Your chiropractic treatment plan will be designed around your personal needs, goals, and abilities.

When the body is in pain, it can move into all aspects of life, from work-related to physical performance to mental and emotional dysfunction and stress. But, when treated properly with safe, natural, intentional care, you can find the balance and comfort you deserve.

Forward Spine Center for Neck Health
Your body's performance relies on you, so give it the care it's asking for. Neck pain shouldn't affect your daily routine and with solutions so close, why let it? Our Golden Valley chiropractors are ready to give you treatments optimized for an efficient recovery.

We won't take your health for granted, and we'll give you the tools to enhance your body and help keep it safe.

Contact us today to learn more about how chiropractic care can end your neck pain, and let's start getting you active and comfortable.